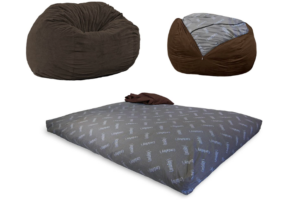 Super stylish, soft and comfy bean bag, even better with the fact it can be turned into a bed. Great for extra sleeping spaces for guests. Not as heavy as I thought it would be, I like how they tell you the weight of each size so you can account for that. The stuffing makes it very easy to re-fluff. Heavy duty zipper is very durable has not broken or gotten stuck, a problem I've had with beanbags in the past. Amazing quality, stitching has not ripped or even shown any size of use when fluffed. Fits one adult very comfortable but can fit two snuggly, not recommended though (full version, multiple sizes available).
The biggest negative to this is the cost, as most people aren't willing to drop hundreds on a beanbag
. I personally thing it's worth the investment as it also serves as a pullout couch type piece. The bed could use more stuffing itself, when sleeping I would wake up and find myself sunk past all the stuffing at times. I also found it a little challenging to put the bed back into the cover, might be a two person job. Overall, I highly recommend this if it fits your budget, even if you are just looking for a high quality beanbag.