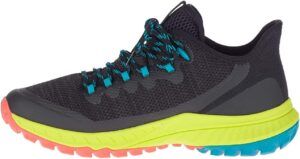 The Merrell Women's Bravada Hiking Shoe is an excellent choice for women who are looking for a comfortable and durable shoe that can withstand rugged terrain. These shoes are designed specifically for hiking, as they provide ample support and traction to help you navigate any trail with ease.
One of the standout features of the Bravada is its comfort. The shoe features a cushioned footbed and midsole that provide excellent support and shock absorption. The mesh upper also allows for good ventilation, keeping your feet cool and dry even on hot days. These also offer excellent traction. The sole of the shoe is made from durable rubber and features a deep tread that provides excellent grip on uneven terrain. This makes it easy to traverse slippery rocks and steep inclines with confidence.
One potential downside of the Bravada Hiking Shoe is that it may take some time to break in. The shoe is relatively stiff when you first get it, but it will become more comfortable as you wear it and it conforms to your foot.
Overall, the Merrell Women's Bravada Hiking Shoe is an excellent choice for women who are looking for a comfortable and durable hiking shoe. It offers excellent support, traction, and ventilation, making it easy to navigate any trail with confidence. While it may take some time to break in, the shoe is well worth the investment for any serious hiker