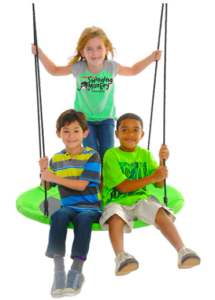 Awesome alternative to classic swing. I got this for our backyard swing set so the kids could have some variety in their swings and they love this. I love the long hanging ropes for varying swinging heights, making it perfect for any size set. The highlight for me is that it's insanely durable, holding up to 250 pounds. The kids love how big it is and how it can also act like a hammock (I will even catch myself relaxing on this). Very easy to install. Not to mention, an excellent price point, something hard to come across for good quality personal playground equipment.
However, after a few months in the sun the color starts to fade and will rub off on clothing and skin. There might be some bias to these results as we had to test up to the Arizona sun, but still something to be weary about. Referring back to earlier it is s
ignificantly larger than a regular swing as it takes up two normal swing spaces. This could be viewed as a positive and negative, just depending what you are looking for. Overall, I highly recommend giving this swing a try for any personal swing set owner.