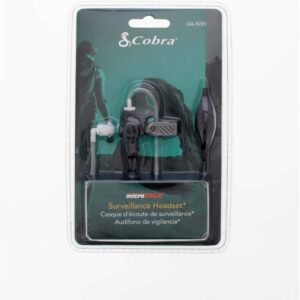 The Cobra GA-SV01 Surveillance Headset Microphone is a durable and reliable communication accessory that allows for clear and discreet communication in professional settings. Its hands-free design allows for focus on work without distractions and the highly sensitive microphone ensures clear voice transmission.
The headset is designed to withstand harsh environments, with reinforced cables that resist tangling and a durable housing that can withstand drops and impacts. This makes it ideal for use in noisy or rugged environments, such as law enforcement or security work. The price point is also hard to argue with, as even if this ends up breaking on you, it's only $20.
Overall, Cobra delivers accessory for anyone who needs a reliable and high-quality communication tool. Its comfortable design, clear audio quality, and durable construction make it an excellent choice for security professionals, law enforcement, and anyone else who needs to communicate discreetly and effectively in challenging environments.