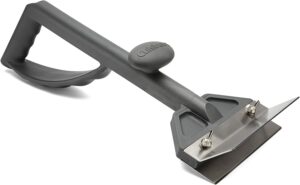 Cuisinart has always been a brand that I trust, as they have delivered every single time no matter the type of kitchen tool. This is no exception, as it is an excellent tool for anyone who loves to cook on a griddle. This scraper is well-made, sturdy, and easy to use.
One of the things that make this scraper stand out from others for me is its angled blade. It is designed to fit the contours of your griddle perfectly, making it easy to remove any food particles or grease that may be getting stuck on your cooking surface. The blade is also made from high-quality stainless steel, leaving you assured that it will last. Another great feature is its comfortable handle. It is made from a soft, non-slip material, which makes it easy to grip and hold, even when your hands are wet or greasy. I find this a life saver, especially when it comes to getting the hard to scrub off bits as it gives you that added grip to really get in there.
Overall, I highly recommend this griddle scraper. It is a well-designed tool that is easy to use and built to last. I've had mine for 3 years now and it doesn't show any signs of stopping. If you want to keep your griddle clean and in good condition, this scraper is an essential tool that you should definitely consider purchasing.