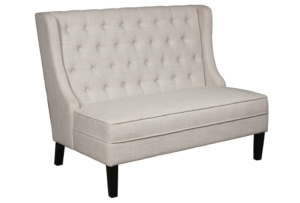 I was looking for a new complimentary bench for my dining room and this instantly caught my eye. First off, I have to say that this piece looks amazing. The oatmeal color compliments a lot of aesthetics. It was very easy to put together. It came at fairly reasonable price ($315- however no longer available on Amazon). It is a great size in my opinion (
52″D x 32″W x 45"H). The description says it only seats 2, but we have been able to fit 3 people comfortably on the bench. The padding on this is very comfortable not to mention that it has held up for quite some time. We've had this for a little over 2 years and it's just as good as new.
My main complaint is that it is not really suitable for people with kids. It stains and snags very easily. Be carful if you are moving this constantly, as the legs become loose and wobbly over time. I found that it sits low with pushed up to a standard dining room table, however it depends on the height of your table. If it fits your budget, I highly recommend this bench.