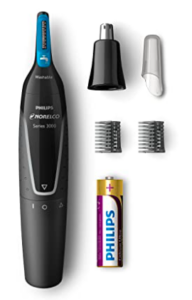 This trimmer works wonders. I got it off of amazon knowing Philips to be a trusted brand, and they definitely delivered. all parts of the trimmer work amazing, my favorite being the eyebrow trimmer. I personally have always had fuller eyebrows, so finding a good trimmer is tough. This has held up with almost daily use for about a year and a half now and still works just as good as day 1.
My only complaint about this is the actual nose trimmer attachment gets a little uncomfortable. I'm not exactly sure how you could make a trimmer feel comfortable up your nose, but the metal tip becomes irritating. It also builds up a metallic smell so anytime you try to trim all you get is that smell. the trimmer itself works decent, takes longer than I would like since you have to hunt for the smaller hairs.
Overall, I highly recommend this trimmer, for both the quality and price of it.